WILFRED LE FOU jacket from Aritzia, WILFRED FREE t-shirt from Aritzia, WILFRED shorts from Aritzia, UO laced heels, assorted necklaces from H&M and F21, ALEXANDER WANG clutch
After starting my new job, I've found that I'm a) a lot happier b) I get to actually go out on the week-ends and c) gained some weight (which is good). The only downfall is that my total commute everyday is 4 hours. So I am now in search of new employment opportunities, where I can talk to people and be fun and wear fun things.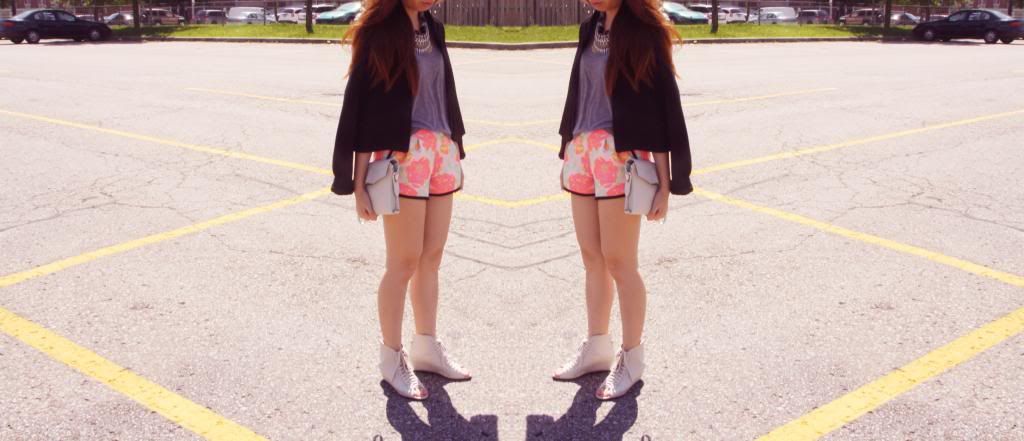 Before I quit Aritzia I made sure to do a huge haul, and now I'm stuck with clothes that aren't "office appropriate". But whatever, more fun clothes for the week-end.
When I first saw these baroque shorts, I was obsessing over them and obviously bought it -along with the baroque top to match. My mom thinks I look like I'm in nursing scrubs but wuteva. I decided to break up the pieces so that I could get an "everyday" look. The neon colours and floral pattern are perfect for this season. ALSO Baroque is such a fun fabric, however, I do have a love/hate relationship with them for the sole reason that it's not a stretch fabric. This results in me doing a super awkward dance, and me holding in my pee for several hours.
Finally, it's not as obvious in my photos bu I've learned the art of "stacking" thanks to IG: dylanlex, check her out if you know don't know who she is. Here I've stacked three different necklaces to look like one big statement piece. Stacking is probably the easiest part, I just need to find more necklaces that compliment each other and have different length. If you have any suggestions on sweet jewelry shops, let me know!